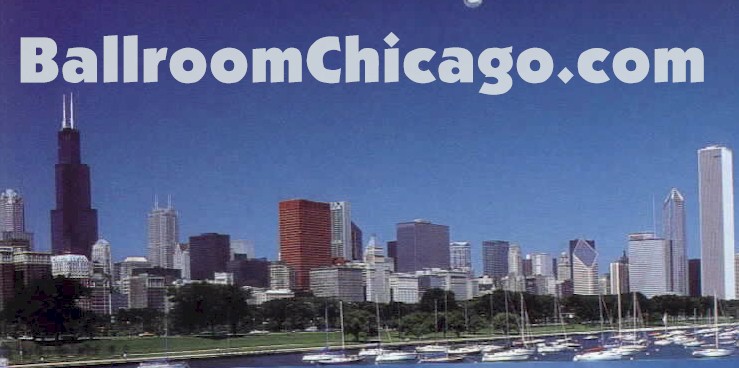 Phone: (847) 757 2227 Fax: (208) 723 5996
email: info@BallroomChicago.com
Greater Chicagoland Locations
For Instruction & Places to Dance
Click on the location of your choice for more information



Ballroom City
207 S Villa Avenue
Villa Park, IL 60181
(630) 834-7994
www.BallroomCity.net
Founded in June of 1997 by Norm Lucky and Mary Thygesen
Ballroom Dance Club
North Shore Dance Society
660 Vernon Ave.
Glencoe, IL 60022
Aleksandar Bonev (773) 996-6617
Peter Minkov (773) 780-7627
www.northshoredancesociety.com
Ballroom Center
118 A. N Milwaukee Ave
Libertyville, IL 60048
(224) 513-5999
www.theballroomcenter.com
Vito Bertucci
500 S Circle Ave.
Forest Park, IL 60130
(708) 771-8146, (773) 277-4398
www.ballroomchicago.com/vito_bertucci.htm
Chevy Chase Ballroom
1000 N. Milwaukee Ave.
Wheeling, IL 60090
(847) 537-0362
Occasional Wednesday evening Ballroom Dancing with Live Orchestras

Chicago Ballroom Co.
Operated by Bob & Penny Urbon
Highland Park, Il & Other Locations
Chicago, IL
(847) 757 2227
Website
Chicago Dance
309 W Chicago Ave
Chicago, IL 60654
(312) 337-9503
www.chicagodance.com
Cinnamon's Dance Works *NEW*
2025 E. Algonquin Rd
Algonquin , IL 60102
847 502 7242
cinnamon_danceworks@yahoo.com
www.cinnamondanceworks.com

Chicago Rebels Swing Club
Center At North Park
10040 Addison St
(773) 549-1528
www.chicagorebels.net
Chicago Swing Dance Society
At The University of Chicago
http://swing.uchicago.edu/
Chicago's Windy City Jitterbug Club
PO Box 713
Franklin Park, IL 60131
Hotline: (708) 456-6000
http://www.jitterbugchicago.com

Chicago Barn Dance Company
Sponsors contra dance, traditional square dance and old-time music
At various locations aroungd Chicago & suburbs
For Information Call (847) 329 9173
http://www.chicagobarndance.com/
Chicago Jitterbug Club
American Legion Memorial Hall
6050 S. Harlem Ave.
Chicago, Il
Hotline: (708) 388 5867
Chicago Dance Factory
415 North Ardmore, Ste D
Villa Park, IL 60181
630-410-1010
www.chicagodancefactory.com
Chicago Country
Home of Rock'N Country
Private Lessons (Line & couples Dances)
Parties & Events
Patrick Stamer email: countrypat2002@yahoo.com
http://www.chicagocountry.com/
La Classique School of Dance & Ballroom
4146 Elston (at Hamlin)
Chicago, Il
From Vito Bertucc1
DANK KANOSAK
I may spell his name wrong, but I won't misspell his life.
He was just one terrific personality. He was a great Dancer.
He always greeted you with a smile. Sometimes a little shy in behavior,
but never on the dance floor.
Anytime Danks name would come up, there would always be something pleasant
to describe him . If it were not for Dance, how many of us would ever have
cross paths with each other?. Great friendships were made.
Friendships became more precious as they became more scarce.
May Dank Rest In Peace.
Dance Connection
3117 N. Clybourn
Chicago, IL
(773) 404-0006
http://www.danceconnectionchicago.com

Dancers Delight
4704 W Patterson Ave
Chicago. IL
773-685-5415
chicagodancersdelight@yahoo.com
DanceDuo Studio
635 Executive Dr.
Willowbrook. IL, 60527
630 455 0524
www.danceDuoStudio.com
Dance World (Dance Club)
(847) 622 3622
Hoffman Estates Community Center
1685 W. Higgins Rd
Hoffman Estates, IL
www.danceworldinc.org

Dance Center Chicago
3868 N. Lincoln, 2nd Floor
Chicago, IL
Office: (773) 880 5044
Web Site: www.dancecenterchicago.com
E-mail: dance@dancecenterchicago.com
Ron & Mari Ford
3868 N. Lincoln, 2nd Floor
Chicago, IL
Office: (773) 880 5044
Mobile, Ron: (773) 960 1142
Mobile, Mari: (773) 960 1152
Ballroom Dance Studio
130 Westfield Hawthorn
Vernon Hills, I
Phone: (847) 549 8726
Also
4187-89 Dundee Rd
Northbrook, IL
Phone: (847) 272 4202
http://www.ballroomdancestudionb.com/
Candace Dance
Candy Swetz
Owner & Head Dance Instructor
Private lessons and group classes are taught at several north side Chicago locations
(773) 398 0760
http://www.candacedance.com
Celebrity Dance Studio - Ann Garvey
2115 63 rd St
Downers Grove, IL 60516
630 969-2800
www.celebritydancestudio.com
Diamond Dance Sport
Becky Simon
7767 96th Place
Hickory Hills
(708) 23 SWING (237 9464)
http://www.diamonddancesport.com/

Floating on a Melody Ballroom
7905 Ogden Ave
Lyons, Illinois 60534
(630) 546-0051
www.floating-on-a-melody.com
Basic Dance
Formerly DuPage Dance Center
Owned by Susan Cole & Josh Torres
at other locations, Please call
Email: Susan susancoledance@aol.com
Josh givedance@gmail.com
(630) 369-3699
www.basicdance.org
Desarge Danceworld (Edward Sargent)
Group Classes & Private Lessons
632 Amersale Dr. Suite 104
Naperville, IL 60563
For Information call: (630) 355-1188
sarge@desargedanceworld.com
www.desargedanceworld.com
Dance Time With Friends
Dempster Plaza
8800-A Dempster St.
Niles, Il 60714
Tel. Nos. (847) 966-1671 (847) 298-5795
www.dancetimewithfriends.com/
Mike Benzmiller's Dance Page
http://www.danceaholics.com

Fred Astaire Dance Studio
404 W. Half Day Rd.
Buffalo Grove, Il 60089
(847) 634 1100
www.fredastairechicagonorth.com
Get On The Dance Floor Co.
Located at
Dance Center Chicago
3868 N. Lincoln, 2nd Floor
Chicago, IL
773 540 5901
www.getonthefloordanceco.com/
CHITANGO
Fred Romero
Argentine Tango
(773) 725 0518
Email: tangobm2@email.msn.com
Group Classes
Performances
Private Lessons

May I Have This Dance
5246 N. Elston, 2nd Floor
Chicago, IL
Social Ballroom & Latin Dance Instruction
773.635.3000
www.mayihavethisdance.com
My Dance Hub
Fox Valley Mall next to Kohls
4332B Fox Valley Center Drive
Aurora, IL 60504
630-236-8400
www.mydancehub.com
NP Dance Studio
572 Weston Ridge Dr
Naperville, IL 60563
(312) 478-3900
www.npdancestudio.com
Glendora House
10225 S Harlem
Chicago Ridge, IL 60415
(708) 425-3686
www.glendorabanquets.net/calendar.html
Interclub Academy Of Dance
7350 N. Milwaukee Ave.
Niles, Il.
847-600-0088
www.interclubdance.com
Kasper Dance Studio
3201 N Long
Chicago, IL 60641
(773) 545-0222
www.kasperdancestudio.com
Kathy Brown TLC
505 N. Lake Shore Drive #6012
Chicago, IL
(312) 666 6682
www.kathybrowntlc.com
email: kathybrown@kathybrowntlc.com
Latin St. Dancing Inc.
1313 S. Michigan Ave., Suite 400
Chicago, IL 60605
312-42-SALSA
Lisa "La Boriqua"
www.laboriqua.com

Matt Rivers & Maliwan Diemer
Available for instruction at various locations
Around Chicago Illinois
Matt: 630 881 5220
www.facebook.com/mattandmaliwan
www.mattandmaliwan.com
Ballroom Dance Center - Northfield
310 S Happ Rd
Northfield, IL
847-501-5220
www.facebook.com/BallroomDanceCenter
info@BallroomDanceCtr.com
www.BallroomDanceCtr.com

www.northshoredancesociety.com
Aleksandar Bonev Instructor
773 996 6617
Heart & Sole Dance *New Location
1691 New Lenox Road
Joliet, IL
Ballroom Dance Lessons And Fitness For All Ages
708-5-DANCES (708) 532 6237
http://www.heartsoledance.com/
Master Dance!
Now Closed. Contact info available at link below.
Email: alexandkato@gmail.com
Alex: 847.921.8609
Kato: 847.460.8645
www.alexandkato.com
Sonia's Dance Rhythm
4332B Fox Valley Center Dr.
Aurora, IL-60504
Ph- 630-585-MOVE
We offer classes in Ballroom and Latin, Bollywood, Hip Hop, Bellydancing, Ballet, Modern and Jazz, Tap, Yoga and many Fitness classes.
We also offer Open Dance Events.
www.soniasdance.com

Sonia's Dance Rhythm
534 W. Wise Rd
Schaumburg, IL-60193
PH- 847-524-4122
Group and Private lessons available for Youth and Adults alike. For both Social and Competitive dancing.
We offer classes in Ballroom and Latin, Bollywood, Hip Hop, Bellydancing and many Fitness classes.
www.soniasdance.com
Second Street Dance Studio
121 East Joliet St.
Schererville, In 46375
(219) 322-5880
http://www.secondstreetdance.com
Shoreline Dance Club
Shoreliners:
It is with regret that must advise that the board of directors for Shoreline Dance Club
have voted to close Shoreline. This was not lightly decided, as we had
been exploring ways to hold on financially. However, the lower attendance, plus now having to cancel
our next two dances, brought the realization that the club is not financially viable.
The Shoreline Dance Club was always such a very nice, fun, socializing dance club.
We all have many happy memories from there, and we are sorry to see it close.
The money left in the account will be donated to the kids' dance program at Lambs Farm.
Thank you.
Anita Dolan, Andrea Vigue, Jerry Vigue, Diane Zitkus, John Zitkus
Swing 'n' Country Dance Club
Dedicated to Couples Style Swing and Country Dancing
Lessons: First Four Wednesdays each month: Beginners 7:30 Intermediate 8:35 pm
Dances: 1st and 3rd Fridays of each month. Dance preceeded
by lesson. Lesson: 7:30 pm followed by Open Dancing 9:00 - Midnight.
web site: Swingncountry.net
Interested in a monthly casual ballroom dance experience?
The Love To Dance Club meets once a month on either Friday or Saturday evenings in Park Ridge, IL.
Send request for specific details regarding location and schedule details to
following email address along with your return email or location address.
email: love_todance@comcast.net
Argentine Tango: Agape
Professional Argentine tango dancers and instructors based in Chicago
Classes, Private Lessons and Dance Events (Milongas)
Info: agape@tangoreaction.com
Visit: www.DANCETANGOCHICAGO.com
Tango Chicago
Owned & Operated By Al Gates
408 S. Michigan Ave
Chicago, Il 60605
312 788 3408
Group Classes & Milongas/Pracitacas at numerous locations
http://www.tangochicago.com/
The University of Chicago Ballroom and Latin Dance Association
The Club holds classes in Ida Noyes Hall at 1212 E. 59th St. in the Cloister Club (big room on the first floor)
or 2nd floor East Lounge or 3rd floor Theater on the University of Chicago campus.
Classes are taught in sequences of 4 weeks each; and the fee is $12 for each 4-week course.
You don't need to bring a partner since we rotate during the lessons.
There is free street parking. Please show up a few minutes before class; especially if you need to pay.
For More Information Visit:
http://ballroom.uchicago.edu/

The Shore Club
Join us for five formal dinner dances per year at exclusive country clubs in north and
northwest Chicago suburbs. We've been in existence 40 years. Enjoy elegant dinners and ballroom dancing to excellent live bands. Couples can join the group or come as guests. Yearly membership is $75 per couple. Members fee per dance is $90 per couple. Guests are welcome to attend at $105 per dance per couple.

Sterba's Dancesport
572 Weston Ridge Dr.
Suite 128
Naperville 60563
Off North Aurora, 1/4 Mile West of Route 59, Near The Train Station
(630) 606 5391
www.sterbasdancesport.com/
Sterbadancesport@aol.com
Tango...Nada Mas 1997 - 2002
It is with great regret that we announce the closing of Tango....nada mas
Bob and Kathleen wish to thank everyone for the memories
Private instruction in Chicago with Bob and Kathleen
888) 857-5174 BobAndKathleen@tangonadamas.com
http://www.tangonadamas.com
Tom & Aggie DeBartolo
Teach Dance Classes for District 214 Community Education
And Host one a Month Big Band Dances at
Chevy Chase Ballroom
BallroomChicago.com/TomandAggieDebartolo.htm
The WillowBrook
Now Closed Due To Fire That demolished The Building
8900 S, Archer Rd.
Willow Springs, IL 60480
(708) 839-1000
http://www.willowbrookballroom.com
Julie Dale
Six East 23rd Street
Sterling, Illinois 61081
julied12@hotmail.com
815-625-1721
Julie has taught for 44 years and is a member of Dance Masters and USBDA
as well as three dance clubs in Rockford: Top of the Town, Ostende and Cotillian
She also has a studio a studio in Sterling, Il and teaches both classes and private in Rockford
at the Clock Tower Resort on Thursdays in the Wallingford Ballrooms
General Ballroom at 6 p.m.
Swing Dance at 7 p.m.
Latin Dance at 8 p.m.
Windy City Wedding Dance
3 locations
365 N Halsted 60661
410 S Michigan 60605
2936 N Southport 60657
312-725-4198
Info@windycityweddingdance.com
Http://windycityweddingdance.com

Copyright © 2001 Bob Urbon. All rights reserved.