Tom and Aggie DeBartolo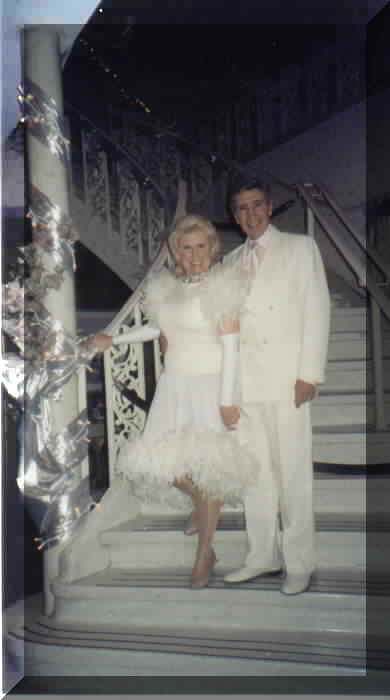 Reprinted From The Chicago Tribune
THOMAS J. DeBARTOLO 1916- 2012

Thomas J. DeBartolo, a longtime resident of Park Ridge and Niles,
passed away peacefully in his home.
He is survived by his wife Aggie; children Joan (Miller), Bill, Terry and Tom Jr., grandchildren and great grandchildren.
Tom, born in Chicago in 1916, met Aggie at the Aragon Ballroom in 1941 and they were married in 1943.
His passion in life was family and dancing.
After having won the prestigious Sun-Times Harvest Moon Festival in both the amateur and professional divisions,
the DeBartolos had a long running engagement at the Chicago Theater.
They were also featured at top ballrooms, hotels, cruise ships, "Dancing Under the Picasso" in Daley Plaza,
and were featured on WTTW's "Remembering Chicago."
Tom and Aggie have taught ballroom dancing in the NW suburbs for over 45 years.
A celebration of Tom's life will be held April 15, 2012, between 2 and 4 p.m., at
Forest View Educational Center
2121 S. Goebbert Rd. (Door #1)
Arlington Heights. IL
Friends and students are welcome.
Donations can be made to District 214 Community Education Foundation.
---
Dance Teacher waltzed into his career
By Joan Giangrasse Kates,


Formerly of Park Ridge, Mr. DeBartolo and his wife taught ballroom dancing for many years in the northwest suburbs.
"He literally taught thousands how to dance, but his passion was performing," said his son Terry. "He danced with all the top orchestras in the city."
Mr. DeBartolo and his wife performed for several decades at Daley Plaza's Dancing Under the Picasso, and he was featured in 1994 on
WTTW-Ch. 11's "Remembering Chicago."
Born and raised on the Northwest Side, Mr. DeBartolo attended Schurz High School and DePaul Academy. He met his future wife at the
Aragon Ballroom in 1941, when the two were paired to dance a waltz. Two years later the couple married.
"I remember thinking while dancing that first dance, 'I just adore this man,'" his wife said.
In 1950, Mr. DeBartolo and his wife won the amateur division at the Sun-Times Harvest Moon Festival, sharing the stage with
celebrities including Dean Martin, Jerry Lewis and Debbie Reynolds.
"It was such a thrill," his wife said. "They called out our names, and all I remember is jumping into his arms."
Their professional careers were launched in front of an audience of 22,000 in that same dance competition two years later at Chicago Stadium,
where they dazzled the crowd and won first place in the professional division.
That victory secured the couple a long-running engagement at the Chicago Theatre and led to other dancing gigs at Chicago-area venues
like the Oriental Theatre, Club Hollywood, Melody Mill, Willowbrook Ballroom and The Embassy. They also performed at top hotels and on cruise ships.
"Our job was to get people out of their seats and onto the dance floor," his wife said. "But it didn't feel like work with Tom at my side."
For more than four decades, Mr. DeBartolo and his wife also gave lessons to dancers of all ages throughout the northwest suburbs, most recently at the
Chevy Chase Country Club in Wheeling. When not dancing, he worked as a time-study engineer for various companies.
---
---
---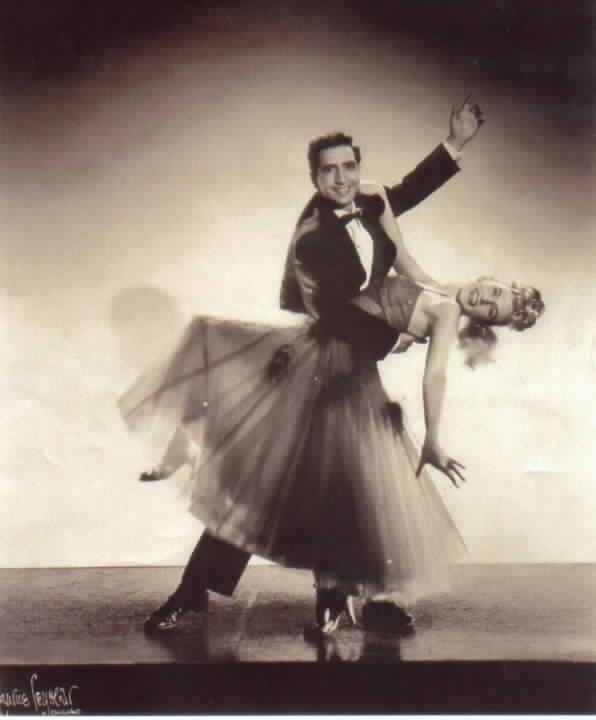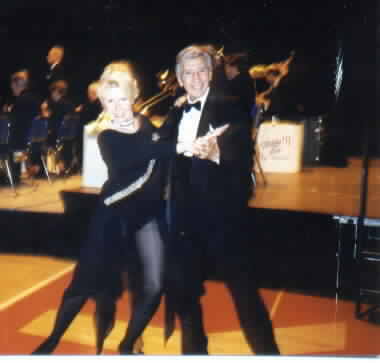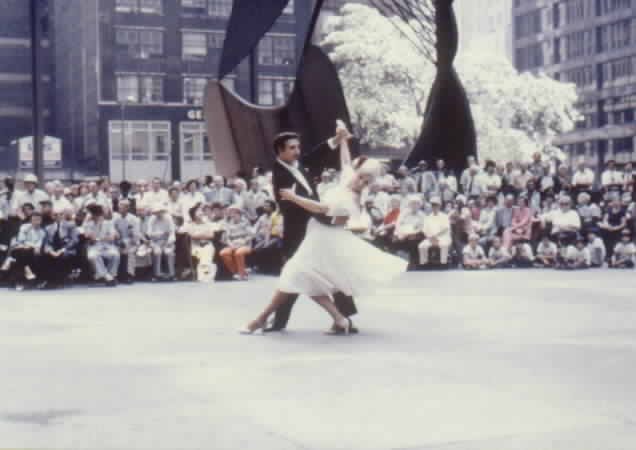 Tom & Aggie Harvest Moon Tom & Aggie At Dist 214 Annual Dance Tom & Aggie At The Daley Plaza
pro Champions 1952
Web page courtesy of Bob Urbon
BallroomChicago.com
Email: bob@BallroomChicago.com
Copyright © 2001 Bob Urbon. All rights reserved.