About Bob & Penny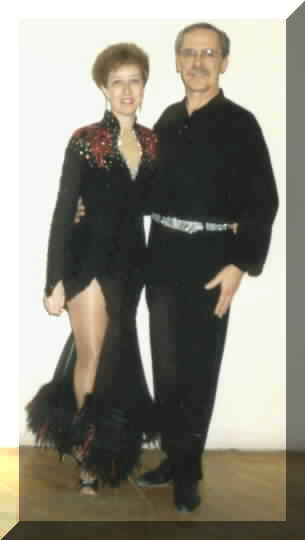 Bob & Penny have taught in the Chicago area for many years. Bob and a previous professional partner took 2nd place in the Show Dance division at the Chicago Star Ball in 1964. Bob taught with Frank Romani at "Chicago Dance Club" for several years, ultimately deciding to take over the Romani space after Frank decided to move to Arizona. Thus began the new business "Chicago Dance" and the journey to build a customer base and the reputation of Chicago Dance with a new generation of dancers.
After many extremely successful and wonderful years, they received an offer to purchase the business from Gregory Day and Tommye Giacchino. On January 3rd 2000, Gregory, who began teaching in Chicago at Chicago Dance, and his partner Tommye Giacchino ( World Champion Exhibition Dancers) purchased the business.
These days, Bob & Penny continue to do what they love best - teaching and sharing the joy of ballroom dancing with as many others as possible. Their goal is to promote Ballroom Dancing and to provide easy access to information about where to dance and/or take lessons. For that purpose, this web site has been established. Please bookmark the site and return to it often, to see new information as the site grows and is updated.
Meanwhile, if you need to know about a specific Chicagoland location, or have questions about any type of dance, drop an email to at bob@BallroomChicago.com . You may also subscribe to our email list and receive all updates by sending an email with the word "subscribe" as the subject.

Currently Bob conducts classes on Monday evenings In Northbrook at the Bernard Weinger JCC. Usually, there is a basic class at 6:30 pm and an intermediate class at 7:30 pm The dance being taught changes every 5 weeks. The 5th week is a social dance party For the schedule of classes, check the main web page at www.ballroomchicago.com Bob is also on the staff & teaches as well as hosts dances at Ballroom City in Villa Park.
In addition, Bob taught and hosted dances at the Chevy Chase Country Club once a month Wednesday evening dances for many years. He also teaches for Shoreline Dance Club. Dance World, and Conducts the New Trier Extension, And Stevenson Prep Adult Dance Classes.
Click Here To return the BallroomChicago.com Main Web page
Past and/or current clients:
Coaching for a Ballroom Dance Scene in an episode of the popular television show "Early Edition"
Coaching and Choreography for actors Peter Stormere and Ivana Miliecevic in the film
"Witless Protection" due for release in early 2008 (also look for Bob in the Dance Scene)
Presidential Towers Health Club
Deerfield/Highland Park District 113 Adult Continuing Education
New Trier Extension
Stevenson High School PREP Adult Education
Francis Parker School Adult Continuing Education
IIT (Illinois Institute of Technology) Ballroom Dance Club
The Shoreline Dance Club in Lake Forest
Shaare Tikva Synagogue, Chicago
Highland Park Moose Lodge
Chicago Dance (Owned by Bob & Penny until January, 2000)
Marcia Barrett's North Shore Dance Studio
The Chicago Department of Cultural Affairs SummerDance Program
The Daley Plaza "Under the Picasso" events
Chevy Chase Country Club in Wheeling
USA Dance, Chicago Chapter
Conventions at McCormick Place
Dancing Club of Evanston
Dance World Dance Club , Arlington Heights/Hoffman estates
Compass Rose Restaurant & Night Club in Wheeling
Great Age Fitness Center, Highland Park
Girl Scouts of America, Highland Park
Special events at numerous hotels in the Chicagoland area
Gorton Community Center, Lake Forest, IL
New Trier Extension Adult Education
Ballroom City, Villa Park. IL
Rush-Presbyterian-St. Luke's Medical Center
Francis Parker School
Highlife Adventures
Hollywood-North Park Community Association
Triton College
Paint Me A Party Productions
Chicago Historical Society
Zephyr Dance
Bernard Weinger JCC, Northbrook, IL
Stevenson High School Adult Education In Lincolnshire
The Levy Center in Evanston
If you would like more information about providing classes or performances for your event, organization or group, drop us an email at: bob@BallroomChicago.com or call us at:
(847) 757 2227
See you on the dance floor!
Phone: (847) 757 2227 Fax: (847) 748 8164
email: info@BallroomChicago.com
Issue
March 20, 2006

<![if !vml]><![endif]>
By Kevin Davis
On The Clock: Twirl teacher
<![if !vml]>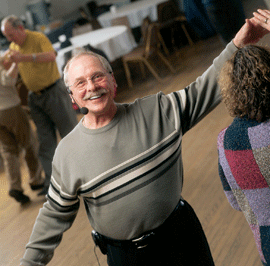 <![endif]>
Photo: John R. Boehm
Bob Urbon, Ballroom dance instructor, North Shore
Duties: Teaches styles from rumba to West Coast swing in private and group lessons. "It's like flying across the floor."
Background: Started teaching part time in 1962 while working as an electrical contractor. "Ballroom dance was very popular. There were the chain studios in Chicago such as Fred Astaire and Arthur Murray. We had large crowds coming out for competitions. In the '70s, interest faded a bit because of disco."
Sudden interest: TV's "Dancing With the Stars" is "bringing all the people in the door right now. We've had couples from college-age to in their 80s. Young people are seeing other young people dancing. They have so much energy and so much enthusiasm. I'm getting more men than women now. It used to be the other way around."
Degree of difficulty: "I have never met a person who can walk and count who can't dance. Now it takes some longer than others."
Rewards: "The funnest part is watching the look on people's faces when they realize they can do this. You watch them struggle with it, and then you see them get surprised and happy."
Copyright © 2001 Bob Urbon. All rights reserved.